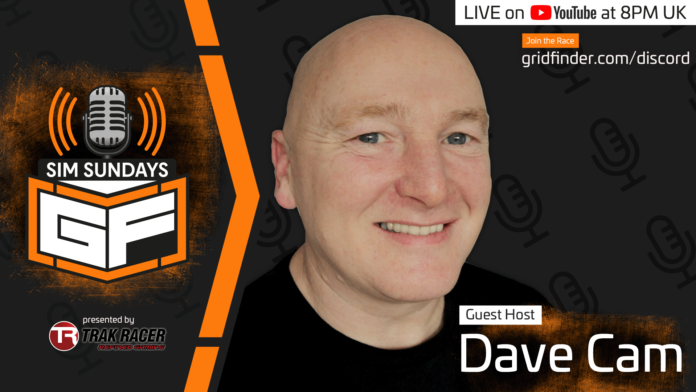 Dave and I, two British northerners… chat about iRacing, streaming, the state of sim racing generally and McDonalds. Dave's infectiously friendly attitude made for a great casual show while making an open offer to fans of the podcast to "share his hash brown" and chatting about his love of sim racing.
Dave and I spoke about the unusual phenomenon of sim racing shame – that shame being the tendency to not tell your friends, family, colleagues about your passion for racing pretend cars. Plus the embarrassment about the amount of money you may or may not have spent on your rig.
"There is always a story to tell in whatever race you enter… you've got your own performance you can discuss… what you're doing right, what you're doing wrong… but then there's always battles in front, cars dropping back, cars pulling away, cars going two wide that drag us in, the guy behind catching but he's battling with somebody, I need to pit now then try and undercut. There's always a story." – Dave Cam
Dave races at an impressively high level whilst maintaining a conscious stream of racer POV commentary. At the same time, he's making some seriously well thought-out split second decisions about his race craft. Due to his skill in iRacing, he's had the pleasure of racing against real-world touring car drivers! Something I personally haven't experienced yet in the lower splits!
"There's always that idiot drivers who overtakes you at the start to make it three-wide and you back out – we'll see you again. Later, lo and behold you do when they're by the side of the track" – Dave Cam
Chatting with Dave was a lot of fun. I could really tell he was in his "happy-place" talking about sim racing and streaming. It struck me how much of the conversation was Dave encouraging others to enjoy sim racing – he seems genuinely motivated by sharing his passion with others.
Subscribe to Dave Cam here: https://www.youtube.com/@davecamyt