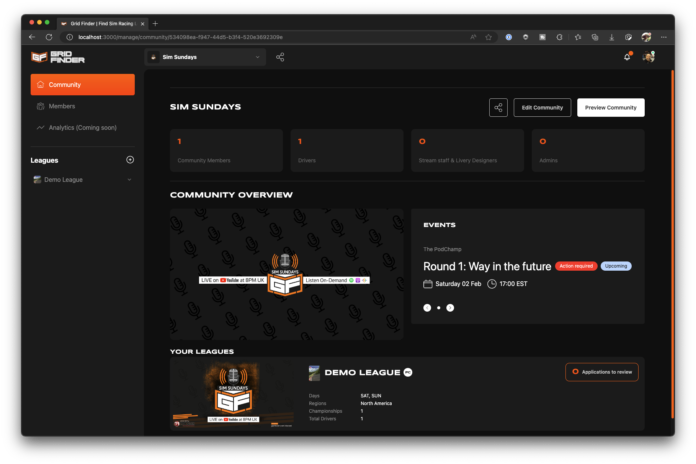 It's finally time. Version 3.0.0 of Grid Finder is here!
This is a bit of a sweet moment for the Grid Finder team as it's the first major release we've had after we've turned this passion project, that started in Tom's kitchen on Wix, into our full time jobs.
But enough about us… Grid Finder is about building a better way for sim racers to find, join, manage, and race in sim racing leagues on their favorite games.
Here's a very abbreviated list of what's included in v3.0.0:
Restructure application for improved scalability and maintainability.
Migrated to a more "industry standard" database system to improve site speed, maintainability, reliability, and security.
Completely redesigned league manager.
Improved user profile pages.
Improved driver application experience.
UI Improvements throughout the front facing website.
General bug fixes and improvements (I hate this type of release note but it applies 😆)
We are excited for the new version of the site but we also know it's by no means complete. We have HUGE plans for the future of our little piece of the internet and we want your help in making the perfect platform to spend your time with.
We know bugs are out there and would appreciate you report them in our Discord. With the new architecture of the site we'll be able to squash them quicker and more efficiently than before.
We also want your feedback! We'd like to hear what you feel could be improved and/or new functionality that would make managing your league on Grid Finder easier. We hope that someday we give you such a complete league management and recruiting experience that you decide to retire your old systems.
We're now moving into a quicker "sprint" based update schedule where we will be pushing out quicker and more consistent updates. Keep an eye on our Discord, our socials, and on our blog for future announcements.
Thanks for racing with us!
The Grid Finder Team