So first thing's first, GamesCom this year was huge – over 300k gamers in 8 huge expo halls in Cologne, Germany. It was my first experience of a gaming event of this size and scale, I'm coming away inspired, energised and incredibly optimistic about the future of sim racing. More about that in my article tomorrow!
For now, we Forza.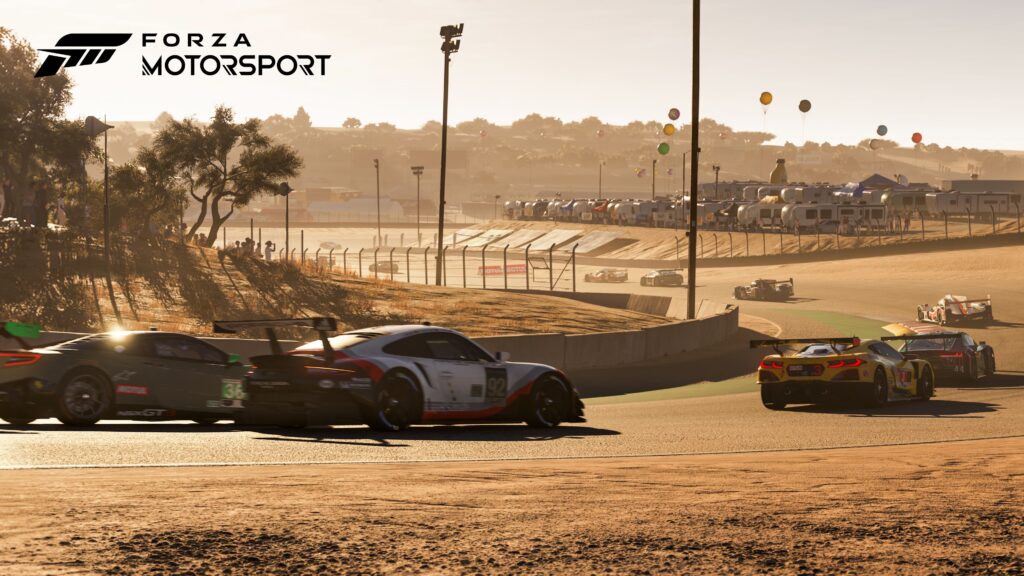 Forza Motorsport was the headline act of GamesCom in our eyes…. obviously. We were incredibly hyped to play the game and see how it squared up to its main rival, Gran Turismo 7.
Well, sadly, we couldn't play it. No one could. Instead, we were treated to a private viewing of a live gameplay session by a member of the Forza community team.
If I had to summarise my impressions in one sentence:
A beautiful looking racing game with some genuinely innovative single player mechanics
4 things we learned:
1. AI Overhaul
The first and probably most significant new feature that we got excited about was the total overhaul of the AI cars we'll be racing against. As you might expect, Turn 10 claims to be using "machine learning" to train their AI driver… fine, I'd have been more surprised if they hadn't claimed that. However, one really big change to previous Forza AI models is that the AI drivers can only operate within the bounds of the universal physics model. What the hell does that mean? It means that the AI cars can't artificially speed up or handle in order to "fabricate" the race scenario (also known as "rubber-banding"). This gets a big thumbs up from us.
2. Live Stewarding System
As our seasoned community manager was making progress through the pack in his 3 lap demo race at Mugello, I noticed a little box at the top of the HUD that would trigger every time the car made contact with another car or crossed track limits. "Collision" or "Track Limits" would display for a few seconds before a decision was made by the AI.
During the demo, no penalties were given despite some pretty bold dives up the inside resulting in fairly significant contact. The presenter was quick to point out that the difficulty was dialled down for demo purposes so the car we were watching was getting let off more lightly than normal for incidents.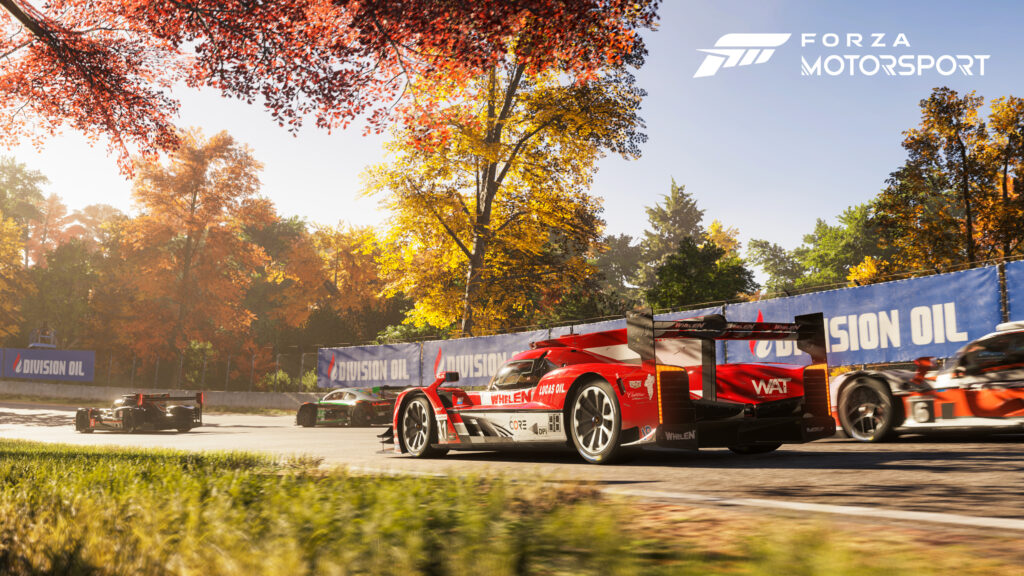 3. Single Player Hybrid Livery & Tuning System
So this is a great little feature that I think a lot of people who haven't played FH5 (where a version of this system existed) will really enjoy. As you progress through the Single Player Campaign mode, the AI cars you race with are digitally twinned with your friends' cars.
What does that actually mean?
It means that when you're racing in the Super Sedan Series in your liveried Audi RS6 with the sports suspension and tuning kit you've added, you'll be racing against your mate's Mercedes with their tuning upgrades and their liveries with their avatar and racing name being displayed on track and in the results. I absolutely love this little detail, it's a simple way of making single player feel a bit more alive through asynchronous experiences of your friend's in-game assets.
4. Challenge the Grid
Ever jumped into single player, set the AI difficulty to what you think is about right? 70? 80? Started the race and left all the cars 5 seconds behind in the first lap? Gone back to the menu, adjusted, and had your pants pulled down by the back markers as you fall off the back of the grid? I have!
Well Forza have come up with a cool system to combat that probelm in Single Player Campaign Mode where you essentially stake your success by selecting your starting position on the grid. As you opt to start further and further back, the amount of credits you stand to earn for winning the race increases. Incentivising players to start further back on the Grid is smart because, well… overtaking is fun!
Other things we noticed
The graphics we saw at GamesCom seemed like a significant step up from anything we've seen previously
Over 500 cars will be available at launch
Nurburgring will be available at launch, Nordschleife is in the works
Difficulty settings are split into 2 categories, pace and realism. Realism included things like stewarding strictness and damage models.
Want to Create a Forza Motorsport League ahead of release?
Try Grid Finder's brand new league manager system and create your Forza League, set the racing calendar, specify the rules and start recruiting drivers ahead of launch week!
Manage your league here 👉 Grid Finder League Manager
Listen to our Special Gamescom Sim Sundays Podcast Episode